A Unique Curricular Approach
Education is a complex undertaking and understanding its various elements demands an interdisciplinary approach. The MA in Educational Transformation embraces four foundational principles: 1) an integrative, interdisciplinary approach to education that stresses systemic thinking; 2) a commitment to an asset-based, culturally relevant approach to children's learning that reflects the university's focus on educating the whole child; 3) a commitment to education as a central component of social justice; and 4) an emphasis on graduate learning anchored in both experiential learning and research, as well as the utilization of "knowledge in action" through residency programs.
As student in the MA in Educational Transformation, you will gain the in-depth and interdisciplinary knowledge needed to be an effective professional through coursework anchored in a set of research-based practices that advance the learning of students and the transformation of education policies.
Program Curriculum
The MA in Educational Transformation requires 30 credit hours over four semesters (Summer I, Fall, Spring, and Summer II). During the fall and spring semesters, students split their time between classes and their residency. Our two summer semesters – required for both Advocacy & Policy and Learning & Teaching – bring students together across concentrations to explore the intersection between life inside the classroom and the external political forces which shape and constrict that environment. The first summer semester runs July-August, and the second summer semester runs the following May-June.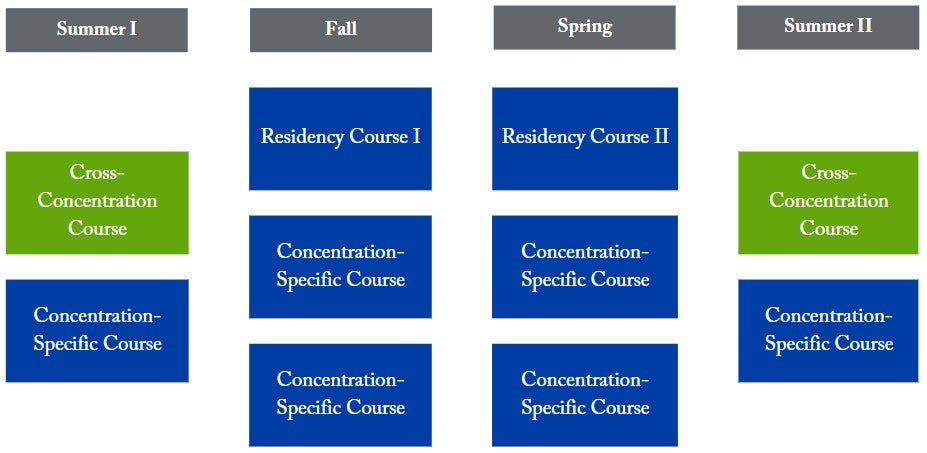 Cross-Concentration Courses
Culturally Relevant Approaches to Education & Social Justice (Summer I)
This course explores the relationship between social justice and the context and practice of education in a democratic society through a systems thinking lens. In this course, teacher candidates examine historical and contemporary research and theoretical frameworks for education as a tool for addressing social inequality and structures of power as they relate to the purpose of education, access to educational opportunity, and disparities in outcomes. Examining the frame of education as a public good, this course pays particular attention to the education of diverse student populations and the potential of education to address both individual and societal needs. As a result of the course, candidates begin to situate themselves with the intersection of education and social justice while articulating a professional identity and purpose. They will also be able to identify how systems of power, privilege, and oppression, including but not limited to white supremacy, hetero-patriarchy, social class oppression, xenophobia, and ableism, have historically shaped and continue to shape the contours of the US education system and contribute to unjust outcomes for students from historically marginalized backgrounds.
Advocating for Learners & Learning (Summer II)
This project-based course serves as a capstone experience to candidates' time in the MA in Educational Transformation. It connects intersections of advocacy, policy, and learning/teaching so that aspiring policy actors know what it means to be connected to the work of teachers and community members and teacher candidates animate their role as advocates and changemakers in larger policy structures. Teacher candidates will utilize knowledge about bottom-up policy and advocacy and equitable advocacy and policy creation as they investigate and evaluate equity issues and policies at the community, school, or district level, provide research-based recommendations for transforming them, and generate next steps in policy development.