Georgetown University's
Teacher Residency Program
A Focus on Educating the Whole Learner
Learning & Teaching, Georgetown University's Teacher Residency Program, centers the education of the whole learner. Whether it is building relationships with students, honing your instructional practice, gaining pedagogical content knowledge in your licensure area, generating insights into classroom dynamics, developing a cultural competence to bridge worlds of experience, or understanding how data can inform your craft, the goal is to ensure that you have the instructional skill and professional awareness to spark and spur learning for every student. We currently offer licensure training to work with English language learners (ESL/ELL) in K-12 settings.
The MA in Educational Transformation is designed to prepare PK-12 educational professionals who have interdisciplinary skills and focus on the assets that children bring to school, rather than focus on deficits that undermine learning. These interdisciplinary skills and an asset-oriented perspective are necessary to promote effective instructional practices for children with diverse needs in an urban context. These skills and perspective to lead transformations of classrooms, schools, and districts in order to ensure a just and equitable education for all children.
All applicants to the Teaching Residency Program are considered for merit-based scholarships, distributed on the basis of exceptional ability and talent based on information presented during the admissions process – no additional application necessary. In addition, there are scholarship funds available with the aim of diversifying the teacher pipeline. Priority for these scholarships funds will be given to multilingual applicants and applicants from diverse backgrounds. Funding for these scholarships is provided by Project ELEECT.
Course Sequence
The Learning & Teaching concentration requires 30 credit hours over four semesters: summer, fall, spring, and summer. During the fall and spring semesters, students split their time between evening classes and full-time co-teaching in a local DC school. At the core of the Learning & Teaching curriculum are the Teaching Residency courses. Contextualized in students' daily teaching practice, the Teaching Residency courses are part of a two-course sequence that integrates coursework on (1) defining a professional identity as an educator, leader, and advocate for students and (2) developing effective instructional strategies. Through face-to-face class sessions and online modules, students will develop a repertoire of instructional strategies to engage all students and ensure achievement. On-site classroom observations and video-recorded lesson evaluations will help students implement instructional strategies learned in the course. Over two semesters, students develop professional dispositions that situate inquiry and reflection as the nucleus of their practice, using formative and summative data on student engagement and learning to inform instructional decisions, integrate feedback on their practice from their professor and peers, and share feedback with other educators.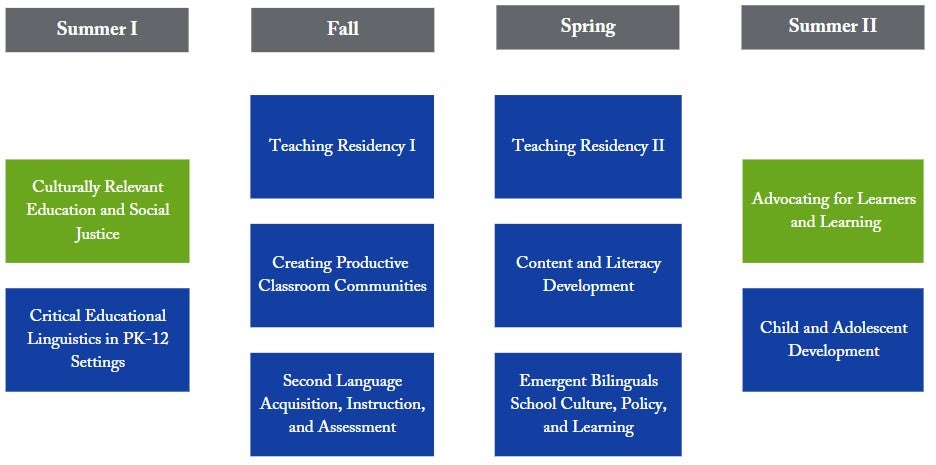 As one of the first courses along their journey of becoming an effective educator, Teaching Residency I is designed to complement and contextualize students' first semester as a Resident Co-Teacher (RCT). The course adopts an "inquiry stance" to students' work as a RCT, asking them to engage an iterative inquiry cycle of asking questions, collecting and analyzing data , and implementing solutions that can be used to assess effectiveness and identify additional questions. Students will examine multiple theories, research, and praxis of effective teaching and develop skills as a reflective educator. To complement students' work as RCTs, this course is structured to help students develop the knowledge, skills, and disposition necessary to interrogate their developing praxis, critically analyze the praxis of others, and craft an identity as an educator. Students will co-create a community of practice that connects the seminar space and RCT site while identifying and wrestling with problems of practice. Within this community of practice, students will use multiple frames of excellence and evaluation to examine and critique their work in the class as well as the work of others.
As a continuing course, Teaching Residency II helps students develop the knowledge, skills, and dispositions needed to leverage the interests, lived experiences, languages, and ways of knowing of their particular students to maximize engagement for learning and growth. This supervised field-based experience builds on students' learning across courses taken thus far in the program, and the residency experience will progress from classroom observation and assistance through a gradual release of responsibility that builds toward co-teaching in small group and whole class settings. Students will simultaneously develop the professional skills necessary to articulate their own teaching stance, practices, and knowledge on the job market.